I've recently got back into BMX. We used to ride all the time when in high school but everybody went off to uni and we all stopped riding. Feels amazing to be back on the bike and progressing again at 24! Here is my ride, it's a total high school build on a budget bike so it's ghetto.

My plans are to revive it, upgrade some parts that are broken like the half stripped cranks and the rear wheel which has so much play it causes my tyres to rub and the axle is bent and rusted to hell. Also, the lock requires bolt cutters to get off, don't have the key after 7 years in a shed! I still love it though. So far I've put some 2.4 Fit FAF's on and I'm currently messing around my my friend's 9" bars as the current ones feel too low for me. I've also painted the front wheel black to match. Will get some better photos soon.




And just for those interested, here's a photo from back in 2011.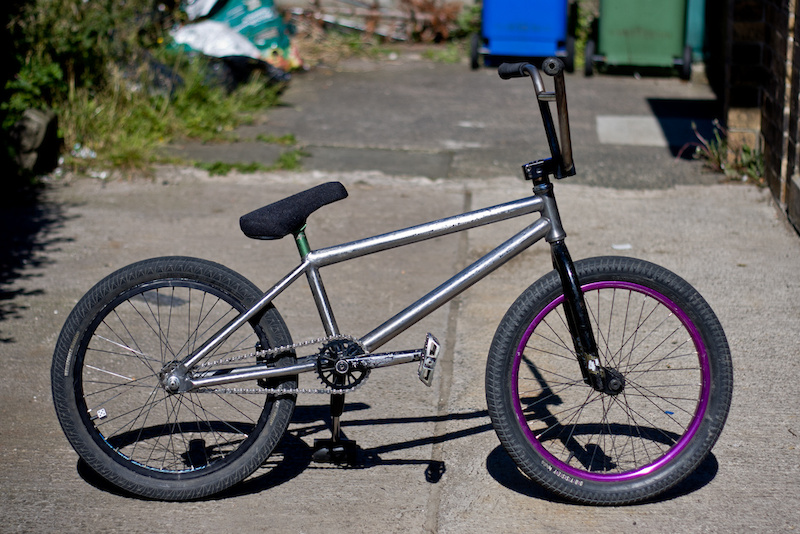 Frame: Federal Hamilton 20.25"
Forks: Odyssey Dirt Classic
Bars: Fit Northwest 8" Rise
Stem: S&M Redneck XLT
Grips: S&M Hoder
Headset: Mankind
Seatpost: Animal Wedge
Seat: Shadow Mid
Rear Rim: Oddysey Duralectra
Rear Hub: Odyssey V3 9t
Rear Hub Guard: United Squad
Rear Tyre: Fit FAF 2.4
Front Rim: Salt Plus
Front Hub: Salt Plus
Front Tyre: Fit FAF 2.35
Cranks: WeThePeople Royal
Pedals: Federal Contact
Sprocket: Federal Street 28t
Chain: KMC 510
Pegs: Salt Pro