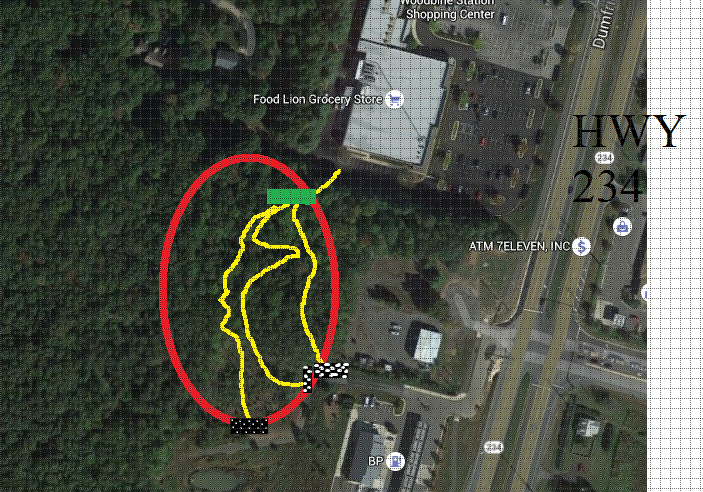 The Above map shows the proposed location, the BP Gas Station, Was once the site of the "Prop's" Trails back from the early-mid 90's Not sure when they were Originaly built up... The name "Prop's" comes from a mom and pop shop across the street, now called "Charlie Bob's" (they make a nice egg sammich).
the entrance would be an existing walking path that is on the left side of the Food Lion. this store generally doesn't have many people it's parking lot, which means we'd have lots of room to park! In the shopping center, there's lots of restaurants, everything from chinese, to Dominos, to subway. but beyond all that, Is an Ace Hardware, which aside from the obvious tools of the trails, they sell Bike tubes, patch kits, pumps, brake and gear cables with housing, and also a full brake installation kit. they also give away wooden pallets, which we could use in the trails. Just down from the BP is also an EMT/Fire Station, incase of any accidents. And As i remember their is a creek bed that runs through the area, So there's a chance their is a water supply we could use for jumps. there's also a very popular sidewalk path that runs in front of the shopping center, and down past the firehouse in the other direction, it goes all the way to Brentsville Rd. So any riders who are without a car can ride to these trails. There's also a sidewalk connecting to this area from Dale City, so those riders will be able to ride if they cannot drive. this path is EXTREMELY POPULAR with the road cyclists, which means People would be used to seeing Bikes around that area and wouldn't suspect anything,
These Trails would be an excellent alternative to those who either cannot afford to drive or simply don't want to drive to 495, as well as offer those who know 495 better than they do the back of their hands, some new ground to explore. Aswell as paying Homage to the trails that used to be there years ago. And could help bring more BMX into the area.
With enough support gathered, We will attempt to find the landowner to have the trails sanctioned so there'll be no legal issues. to my knowledge. the only trails closest to this area is a mountain biking trail in Dale city, that's well, not really for bmx bikes.